To all my friends I have made in my life
and all the family I love dearly
I want you to know ,
You are my lifeline
You are the strands that hold me together.
I cherish each and every one of you.
For I would be nothing without you
in my life
So I say Thank you and Merci
To all of you.
Merci beaucoup!!!!!
MY SURFER ERIC
ERIC AFTER RIDING A WAVE TO SHORE;
LA DEFENSE
THE PLACE WHERE ERIC WORKS
Say What You Mean
A teacher just taught her class how to describe stuff, using colors and size. She then decides to play a guessing game with them. She asks, "what fruit is red both on the inside and the outside?" A very smart little boy by the name of Johnny, jumped up and answers, "it's a strawberry." The teacher replied, "no dear, but you're thinking, you're thinking."
She then asks, "what is yellow on the inside and sometimes yellow and green on the outside?" The same little boy jumps up and shouts, "an orange." The teacher smiled patiently and said, "no Johnny, but you're thinking, you're thinking."
She then offered them the chance to quiz her. Again, Johnny hollers out and asks, "what is long, brown, has a red head and in my pants?"
Apalled by his question, she sent him to the corner. He then looked at her and said, "no miss, it's my pencil, but you're thinking, you're thinking!"

This was given to me and I think it is worth passing along.

Recipe for Life

1 c. good thoughts 1 c. well-beaten faults
1 c. kind deeds 1 c. forgiveness
1 c. consideration for others

Mix thoroughly and add tears of joy, sorrow and sympathy for others. Fold in 4 cups of prayers and faith to lighten other ingredients. Let rise to great heights of Christian living. After pouring all this into your family life, bake well with the warmth of human kindness. Serve with a smile.

ERIC AND THERESA
ERIC AND THERESA AT FAMILY DINNER
HOLLY
MY SON JAMES' ROTTWEILER
Signing Papers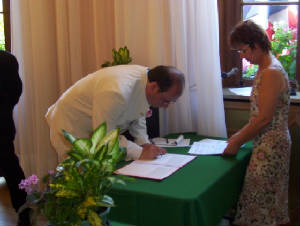 Eric signing the marriage license
SIGNING THE PAPERS
THERESA SIGNING THE PAPERS AGREEING TO BE "MADAME DRENNE"
Back to My Family & Friends page